Attorneys You Can Trust.
For more than 60 years, Parrett Porto's quality legal service has been focused on your goals. Our team of talented attorneys and dedicated staff provides representation for individuals as well as corporate and business clients.
Biography
---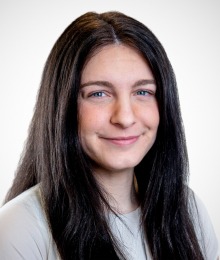 Kathryn Bullock (or Kat) is a passionate and driven attorney who specializes in healthcare law. After growing up in Nebraska, she received her undergraduate degree from Texas A&M University and her Juris Doctor from Quinnipiac Law School.
Kat is committed to learning all she can about the intricacies of healthcare law and providing exceptional service to her clients. Her practice includes advising on regulatory compliance, assisting with transactions and contract negotiations, and helping clients navigate the complex landscape of healthcare law.
Kat is constantly seeking opportunities to grow and expand her knowledge, and she is well-versed in a range of healthcare regulations, including HIPAA, Stark Law, Anti-Kickback Statute, and Medicare/Medicaid regulations.
In addition to her legal practice, Kat is also an active member of the Connecticut community, volunteering her time and expertise to various institutions and donating blood with the American Red Cross whenever possible. She is a staunch advocate for her clients and is dedicated to helping them achieve their goals.
Overall, Kat is a talented and dedicated attorney who is committed to providing exceptional service to her clients in the field of healthcare law.
For trusted expertise, guidance, experience, and care, contact Parrett Porto today. We are a team of attorneys dedicated to excellence and committed to our clients' legal needs.